The Maan Tank Melter is a premium buffer unit for (PUR) hotmelt. In addition to functioning as buffer unit, this Tank Unit may also be deployed for pre-melting (PUR) hotmelt in block or granular form. The melt chamber of the Maan Tank Melter features two zones. In the upper zone, the reserves of adhesive may be built up in either block or granular form. The adhesive then enters the melt chamber via a grating. This means that only a small portion of the adhesive is kept at temperature, helping to prevent the adhesive from deteriorating. From the melt chamber, the adhesive is pumped further through the process using a gear pump. The Maan Tank Melter is fitted as standard with two connectors for adhesive hoses.
USPs
+ Ageing of the adhesive is prevented as only a small part of the adhesive is heated.
+ Equipped as standard with two connections for adhesive hoses
Interested in further information on the Tank Melter?
Then download the technical data sheet.
Besides being used as a pre-melter, the Maan Tank Melter is primarily used as a buffer unit. The adhesive is transported from the Drum Melter to the Tank Melter. The adhesive is kept at a uniform temperature from the Tank Melter and then pumped on to the adhesive head. This guarantees the application temperature of the adhesive. In addition, the Tank Melter offers the option of replacing the adhesive drum in the Drum Melter due to the buffer built up in the Tank Unit.
The Tank Melter comes in either a 65 litre or a 120 litre version. The application and the process parameters are used to determine the volume that best suits the process.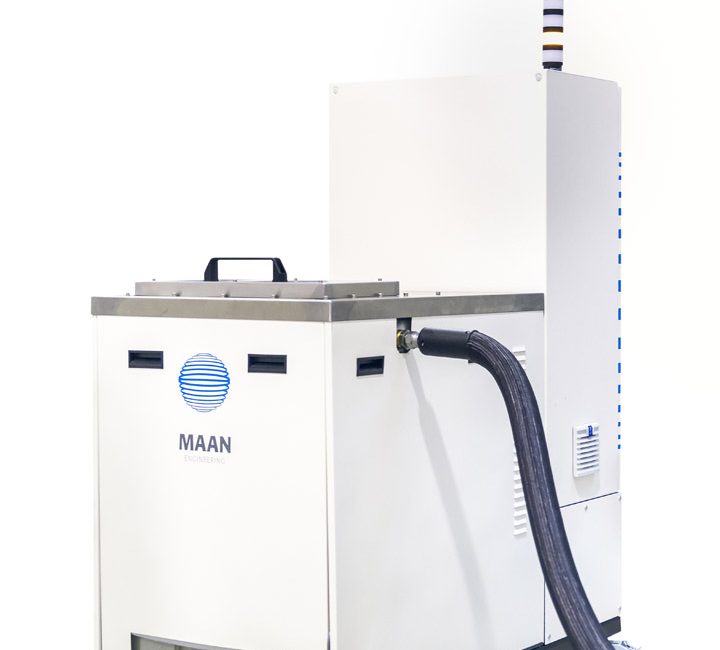 Learn more about the Tank Melter? Please contact our Label Coating sales team.